The Most Dependable, Trusted 24-Hour Locksmith in Kalamazoo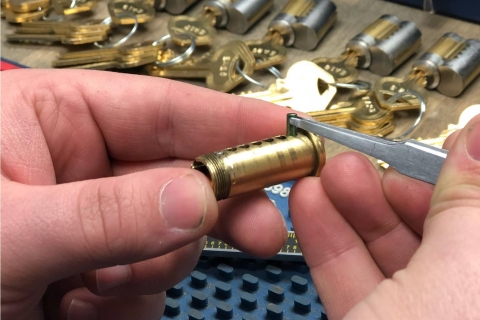 As the leading 24-hour locksmith in Kalamazoo, Michigan Security & Lock offers a wide range of services, from retrieving keys locked in cars to commercial lockouts. We know how disheartening it can be to look back at a closed door and realize that the keys are inside. We understand the frustration that employees and business owners experience when their commercial doors aren't working properly. That's why we strive to provide prompt, affordable service to all of our customers. With a team of experienced technicians available around the clock, we are able to dispatch personnel to your location, resolve your issue, and get you back into your vehicle, home, or business. In today's post, we're going to look at a couple of the services that we provide.
Commercial lockouts
If your door isn't working properly or you've locked yourself out of your business, we can help you. Trusted by businesses in Kalamazoo – and across West Michigan – we have worked on all brands and styles of commercial doors and locks, so you can be confident that we have the tools and knowledge necessary to address the problem.
Home and vehicle lockouts
There's nothing more frustrating than realizing that you've locked your keys inside your home or car. With years of experience, we are the most trusted 24-hour locksmith in Kalamazoo when it comes to lockouts. We have a broad range of tools available to us that can help us gain entry, allowing us to get you back into your home, car, or business.
At Michigan Security & Lock, we are proud of the work that we do. Aiming to exceed every customer's expectations, we have earned a reputation in West Michigan as the most detail-oriented and thorough locksmith in the area. If you're experiencing trouble with your locks, doors, or security systems, we encourage you to contact us today to learn how we can help.