Secure Your Business or Facility with Commercial Door Locks from Michigan Security & Lock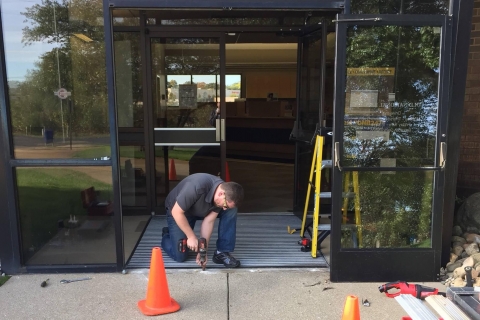 When it comes to securing your premises, commercial door locks are the first line of defense. Whether you're looking for push bars, master key systems, or high-security locks, you can be confident that the team at Michigan Security & Lock has the tools, products, and knowledge necessary to keep your business secure. With years of experience and a reputation as one of the most dependable and trusted locksmiths in Kalamazoo, we have helped countless business owners keep their facilities – and their employees – safe. In today's post, we're going to look at a few of the commercial services that we offer and – more importantly – discuss how they can provide you with peace of mind.
Commercial Door Repair
If your door isn't working properly, that's a real problem! While it may seem like a minor inconvenience, it creates a lot of unknowns. For example, is your door still secure? Is it still effective at keeping unwanted intruders out? Our team has years of training and hands-on experience, allowing us to provide an unparalleled range of door repairs.
Commercial Door Locks
One of the best ways to secure your facility is to invest in high-grade commercial door locks. From the convenience of master key systems to the unmatched security of Medeco locks, we can work with you to identify and implement the level of security that you desire.
Power Door Openers
To help your business meet ADA requirements, Michigan Security & Lock can both repair and install an array of power door openers. Whether you're at the onset of a new project or you're looking to retrofit an older building, we've got the experience necessary to meet your – and your visitors' – needs.
At Michigan Security & Lock, we aim to be the most responsible, trustworthy, and friendly locksmith in Kalamazoo. Serving clients throughout West Michigan, we are committed to 100% customer satisfaction. If you've been looking for a locksmith that will work with you to upgrade your property's security, contact us today to discuss your needs!